Made in China, Sold Globally

Wholesale Confetti Cannons
View the Range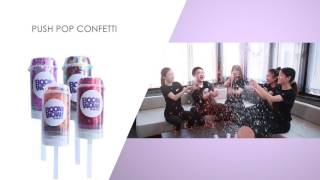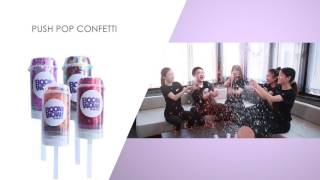 Boomwow
BOOMWOW PRODUCT OVERVIEW

BOOMWOW WORLDWIDE VIDEO

BOOMWOW CONFETTI CANNONS

HOLI POWDER SHOOTER

BOOMWOW CONFETTI PILLOW

BOOMWOW HAND THROW STREAMERS/MAGIC ACCESSORIES

BOOMWOW PUSH POP CONFETTI

BOOMWOW POP TOP CONFETTI

CONFETTI GUN/ELECTRIC COLORFUL SLIPS

CONFETTI GUN/ELECTRIC METALIC STREAMERS
Boom Wow Confetti was designed by a global
design agency
based in New Zealand. The confetti packaging is fun and stylish with quality graphics and a modern party look. The 'how to use' instructions are clear and easy to read in plain english. Boom Wow Confetti has a memorable logo and consistent look across the range of products. Each handheld confetti cannon features additional graphics which make it easy to identify the contents inside that particular product.
Get the best of both worlds, our design team is western but the range is made in China which means great resale margins! We ship our range globally to wholesale customers and offer LCL (partial container) orders as well as full container orders. Our range is fully branded making it stand out from the crowd with quality filling & packaging. Our manufacturing and dispatch warehouse  specialise in party supplies and we have a solid trading history supplying party supplies to customers in America, Europe and around the world.
Our range is continually expanding and we currently have more than 10 cannons with a range of fillings and themes sure to fit most occasions. If you can't see the perfect product for you get in touch to discuss a custom range. We can use the Boom Wow packaging so all you need to do is specify the contents and give us some rough ideas for the packaging and we'll do the rest. We have a range of seasonal confetti coming out this year including Halloween and Christmas confetti cannons.
We recently setup a Pinterest board to share our range including our usa confetti cannons and love hearts cannons. If you're a keen Pinner make sure to follow our boards to find out about our latest releases as soon as they come out.

Handheld confetti cannons are a fairly new product to most people and for the uninitiated they do take a little explaining. Basically they consist of: A Cardboard tube divided in two parts A compressed nitrogren cannister that propells confetti into the air Confetti (streams, metallic foil shapes or coloured paper are the most common) Half […]

We've been supplying our range of confetti cannons to wholesale customers around the world for a while now but we've finally got ourselves a shiny new website to showcase the expanding range and share the word. If you're looking for high quality party products with brands and logo's on them ready to sell then look […]